In or Out of the Box? Navigating the Evolving Mattress Shopping Landscape
Staying informed and adapting to the evolving mattress market will keep you ahead of the game and your business on the path to success.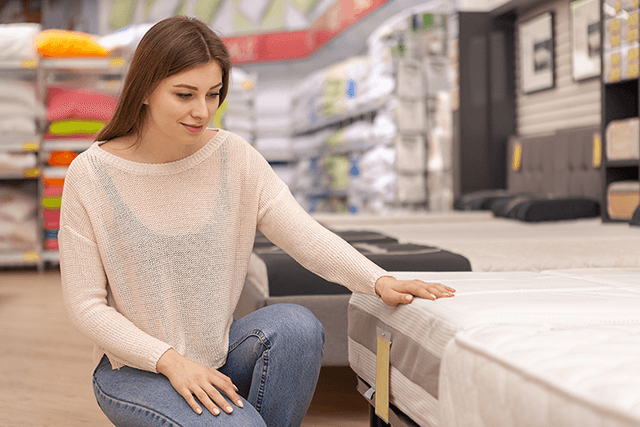 In or Out of the Box? Navigating the Evolving Mattress Shopping Landscape
The mattress industry has experienced a significant shift in consumer shopping behavior. Gone are the days when customers solely relied on visiting brick-and-mortar stores to purchase a mattress. With the rise of e-commerce and changing consumer preferences, the way people shop for mattresses has transformed. Staying informed and adapting to this evolving mattress market will keep you ahead of the game and on the path to success.
Exploring today's mattress shoppers
The current mattress consumer is a diverse group of individuals who prioritize overall sleep quality. They are often looking for mattresses that cater to their personal preferences and need the shopping journey to be as convenient as possible. Here's a deep dive into five of the common characteristics that today's shoppers share.
1. Online shopping savvy
Online mattress shopping has skyrocketed in popularity. In 2022, 62% of consumers browsed online for a mattress, and 44% completed their purchase online.  The convenience and accessibility of e-commerce means shoppers can browse through an extensive range of mattress options, read customer reviews, and make informed decisions from the comfort of their homes. With e-commerce, retailers can reach a wider audience and offer competitive pricing without the need for a physical showroom.
At the forefront of this revolution is the bed-in-a-box concept. By compressing and rolling mattresses into compact boxes, shipping and delivery can be more efficient and cost-effective. Unboxing a mattress has even become an exciting experience, with some customers sharing their unboxing journeys on social media platforms. The bed-in-a-box concept not only saves on costs but also enhances the overall customer experience, making it a remarkable selling point.
2. Research-oriented
Today's consumers conduct extensive research, compare different brands and models, and seek out honest customer reviews to inform their purchasing decisions. According to The Better Sleep Council, only 16% of people make a mattress purchase without doing research first.
The availability of online reviews has become a crucial factor in the mattress shopping process, influencing consumer trust and brand perception. Mattress retailers hoping to gain a competitive edge should pay close attention to their online reputation and actively manage customer feedback to build credibility and recognition.
3. Personalization and customization
Consumers increasingly seek personalized experiences when shopping for mattresses. The demand for customization options, such as mattress firmness, materials, and sleep preferences, has grown significantly. Mattress retailers can capitalize on this trend by offering mattress options that cater to individual sleep needs. From adjustable firmness levels to cooling and heating technology, incorporating personalization options in your product offerings can differentiate your brand and attract customers looking for a mattress that perfectly suits their preferences.
4. Customer service-focused
In the era of online mattress shopping, it's more important for brick-and-mortar stores to offer exceptional customer service. While online shopping offers convenience, customers still value professional assistance and guidance. In-store retailers can gain an edge by investing in a well-trained staff who can address customer questions, provide expert advice, and offer a personalized shopping experience.
5. Eco-conscious
Environmental sustainability has gained traction among consumers. Many are now seeking mattresses made from organic or natural materials that are free from harmful chemicals. Consumers also value mattresses produced through eco-friendly manufacturing. As an added bonus, the fabrics and cooling gels used in eco-friendly mattresses help remove the heat memory foam beds produce, providing better comfort and support. And with the value of the U.S. organic mattress market expected to reach $13.87 billion by the end of 2032, retailers would be wise to incorporate sustainability into their business.
Set your mattress business apart
The way people shop for mattresses is rapidly evolving. To thrive in this changing landscape, mattress retailers can embrace these shifts, adapt their strategies, and prioritize the customer experience.
About Snap Finance
Founded in 2012, Snap Finance helps customers get what they need through thousands of U.S. partners. Snap-branded solutions include lending and lease-to-own financing solutions to help you grow your business and attract new customers. Snap's proprietary, machine learning-based decision-making technology brings modern payment options to consumers who may not qualify for traditional financing.(1)
For more information, visit Snap Finance.
Snap-branded product offering includes retail installment contracts, bank installment loans, and lease-to-own financing. Talk with your local Snap sales representative for more details on which product qualifies at your store location. For more detailed information, please visit https://snapfinance.com/legal/financing-options
(1) While no credit history is required, Snap obtains information from consumer reporting agencies in connection with submitted applications. Not all applicants are approved.
The content of this article is for informational purposes only and should not be construed as personalized legal, financial, or other advice. This article represents paid promotional material provided by or on behalf of Snap Finance, LLC, or its affiliates.