Making a Difference in the Communities Where We Live and Work
Since 2021, we've donated our time and more than $1.8 million to bring positive, lasting change to underserved communities. Through Snap Cares, we're making a lasting impact for those who need it most.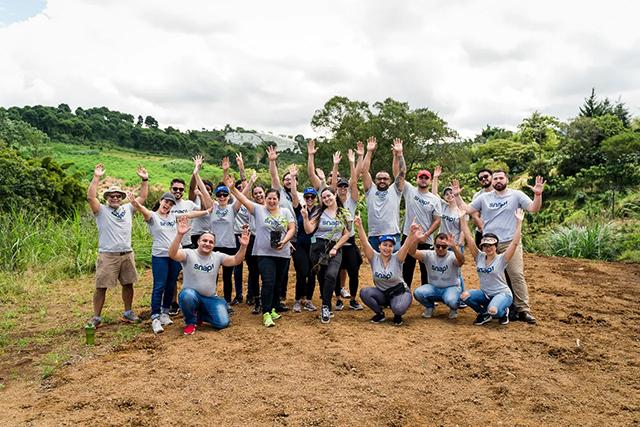 Making a Difference in the Communities Where We Live and Work
Snap Finance is committed to doing well by doing good. Through our Snap Cares initiatives, we empower people and communities to thrive.
Since 2021, Snap has donated more than $1.8 million to make people's lives better and bring positive, lasting change to underserved communities. We collaborate with nonprofits by volunteering our time to increase opportunities and access to food, housing, economic development, and education.
"Snap has a vision for a world where everyone has the means to thrive," said Kendall Banks, Community Impact Leader for Snap Finance. "Snap Cares provides us with opportunities to help people and communities in need not only meet their basic needs, but also have the tools and resources they need to succeed."
Snap believes in creating a strong culture of service. In 2022, more than 60% of our team members volunteered more than 2,200 hours. Team members are encouraged to volunteer through opportunities coordinated by Snap, but many also give their time individually to other causes they are passionate about. Volunteering creates a ripple effect. Team members who have experienced the positive energy from giving back often become dedicated volunteers for organizations throughout their communities.
Snap Cares brings team members together to improve the standard of living in our communities, with a focus on three priorities.
Improving access to community and economic development
Affordable housing is central to long-term financial stability. Snap Cares champions homeownership and credit counseling programs for those with low to moderate incomes. We also promote and support programs for affordable housing in underserved communities.
In 2022, Snap Cares undertook its largest, most expansive project yet by building a home for a family near our offices in Costa Rica. With no available power tools, 20 team members built a 20-foot-square home in two days for a family with two children. One of the participants called the opportunity to help a family fulfill one of their biggest dreams priceless and eye-opening.
Plans are underway to continue this initiative in 2023. In September, Snap Cares will involve more team members in building three additional homes in Costa Rica.  
Fueling the future through education  
Education plays a vital role in ensuring economic stability, which benefits the entire community. That's why education is an important focus for Snap Cares.
Snap awarded 50 scholarships in 2022 to benefit students from diverse backgrounds, many of whom are first-generation students.
"When times get tough as a student, I remember I'm not doing this for myself, but for the people who believe in me," one scholarship winner said. "Because of Snap, I'm reminded that hard work pays off. I can't wait to graduate from college and start giving back to students in need."
Snap Cares also encourages financial education and training programs. We assist groups who offer job training and vocational programs in the areas of business and administration, sales, literacy, and basic-skills education.
Addressing basic needs and food stability
When people aren't nourished, they often struggle to learn, grow, and thrive. Meeting such a foundational need is a powerful way to give back. Snap Cares supports many nonprofit organizations working to improve food security, including availability, access, utilization, and stability in our communities.
One of our most popular monthly volunteer opportunities involves packaging and distributing food through a local mobile food pantry, helping bridge the gap for young students and families who have difficulty accessing sufficient food resources or have food insecurity.
"Handing bags of food directly to children is so humbling," said Ryan Slobodian, [BW1] Snap team member and Snap Cares volunteer. "You can see their desire to help their families in any way they can."
Snap Cares also contributes financially to disaster relief efforts that address the immediate well-being of affected communities. Our sustainability efforts include giving our time and resources to community gardens, tree planting initiatives, and other programs to leave our world a better place.
Committed to doing our part
Snap's desire to help begins with our genuine concern for our team members, customers, partners, and communities. Although our team members are located throughout the world, Snap Cares help us connect and work together to make a difference.
"Volunteering with Snap Cares puts my life in perspective," one volunteer shared anonymously. "Helping those most in need creates a sense of belonging in the community and makes me proud to be a part of Snap."
Learn more about Snap Cares and how we're leaving our imprint in this world.
The content of this article is for informational purposes only and should not be construed as personalized legal, financial, or other advice. This article represents paid promotional material provided by or on behalf of Snap Finance, LLC, or its affiliates.