Five tips for reapplying after credit denial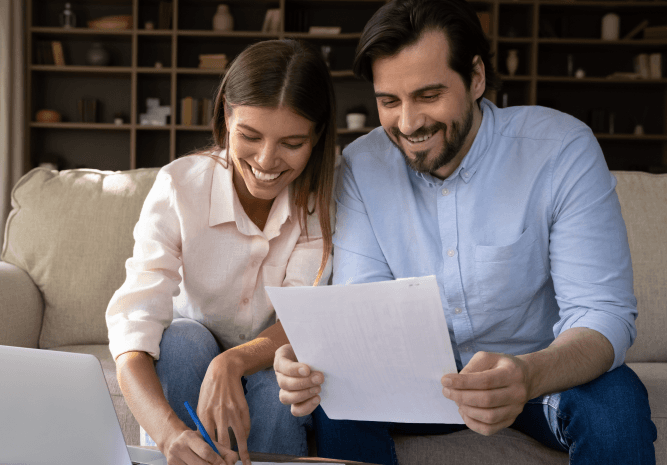 Five tips for reapplying after credit denial
Qualifying for credit can be tough. It stings when you get a denial instead of the approval you'd hoped for.
But you can bounce back after credit denial. Think of it as an opportunity to learn more about your finances and the steps you can take to improve your credit.
If you recently applied for financing and got denied, there are actions you can take to improve your chances of approval when you reapply.
Here are five tips to consider.
1. Don't reapply right away
It's tempting to quickly reapply after a credit denial, hoping for a different outcome. But reapplying without fixing the issues that led to the denial could mean another rejection.
Each time you apply for a loan or other credit, it shows up on your credit report, which can lower your score. That's why you should wait at least 30 days to reapply. To give yourself the best chance of approval, some experts recommend waiting three to six months.
While you wait, take steps to pay off debt, build your savings, and increase your monthly income. Improving your finances is a good goal in and of itself, and it also may increase your chances of approval on your next application.
2. Understand why you were denied
Under the Fair Credit Reporting Act (FCRA), lenders are required to tell you that you were denied, the information they used to deny your credit application, and where that information came from, among other things. You'll learn why you were declined in your notice of adverse action.
Every lender or creditor has different things they look at when deciding whether to approve a credit application. Here are some of the most common factors.
Late payments. Every missed or late payment shows up on your credit report.
Short credit history. With no credit history to review, it's difficult to determine your creditworthiness.
High balances. If you're using almost all of your available credit, that will give you a high credit utilization ratio and may lead to denial.
Bankruptcies, foreclosures, and collections. Lenders and creditors don't like to see blemishes on your credit report.
Even if your credit is good, you may be denied financing if you've been at your job for a short time or if your income is low or unsteady. Also, if in a short time, you've had multiple hard inquiries (when companies have asked to look at your credit report to assess your creditworthiness), it may hurt your chances of approval. The good news is that being declined won't show up on your credit report. Potential creditors will only see that a report was pulled.
3. Improve your finances
Improving your financial situation and your credit takes time, effort, and patience. Start by creating a budget to track your income and expenses. This will give you a clearer picture of where your money goes and help you identify areas where you can cut back.
You can also focus on the factors that most impact your credit score. Start by making on-time payments. Using autopay, which automatically pays your bills from your bank account each month, can help prevent late payments, along with monthly reminders on your phone to check and pay your bills.
Paying down your debts and increasing your credit limits will help you improve your credit utilization rate. That's how much of your available credit you're using.
Use free credit check services to monitor how your financial decisions are impacting your credit score. You can also request an annual free copy of your credit reports from each of the three major credit bureaus (Equifax, Experian, and TransUnion). It doesn't hurt your credit when you check your credit report, and be sure to work to correct any errors.
4. Consider prequalification offers
Prequalification helps you to see if you're likely to get approved for a credit card, loan, or other financing. With prequalification, basic information about you is used to make a preliminary evaluation of your creditworthiness.
Many lenders and other financing providers offer online prequalification checks that only require a soft credit pull, which generally does not impact your credit score. Although prequalifying isn't a guarantee you'll be approved, getting a prequalified offer means you meet the initial requirements.
Most financing providers, including banks, credit unions, online lenders, and others, caters to people with different credit scores and income. Prequalifying with a few different companies will help you better know what type of financing you're likely to qualify for before you complete an application.
5. Explore alternative financing options
Traditional financing isn't the only way to get what you need. If you've been denied a regular credit card or loan, consider alternative options that are more accessible for those with less-than-perfect credit, including loans and lease-to-own financing.
Another option is secured credit cards, which require a cash deposit that serves as your credit line, and credit-builder loans. You may also consider credit-builder loans, where you make payments into a savings account and once the loan is paid off, you can access that money.
And if you're having trouble getting a loan or credit card on your own, you might consider asking someone with good credit to cosign for you.
When you're ready to reapply
Being denied credit can be a setback, especially if you need those funds now. Taking the necessary steps to improve your finances can help you qualify the next time you apply. And when you're ready to reapply, make sure your credit report reflects any changes you've made in your financial situation.
Snap Finance
If less-than-perfect credit is keeping you from getting what you need now, Snap Finance can help. Snap offers lease-to-own financing for all credit types.(1)
Learn how Snap can help you shop now and pay later.
The advertised service is a lease-to-own agreement provided by Snap RTO LLC. Lease-to-own financing is not available to residents of Minnesota, New Jersey and Wisconsin.
(1)  While no credit history is required, Snap obtains information from consumer reporting agencies in connection with the lease-to-own application. Not all applicants are approved.
The content of this article is for informational purposes only and should not be construed as personalized legal, financial, or other advice. This article represents paid promotional material provided by or on behalf of Snap Finance, LLC, or its affiliates.