Get a New Set of Tires with a Predictable Payment Plan
Experts recommend replacing all of a car's tires at the same time. But coming up with the cash to do that can be difficult, especially if you're buying rims, too.  
Learning more about replacing your tires, including the costs involved and options for paying over time with no credit, can help you make the best decision for you.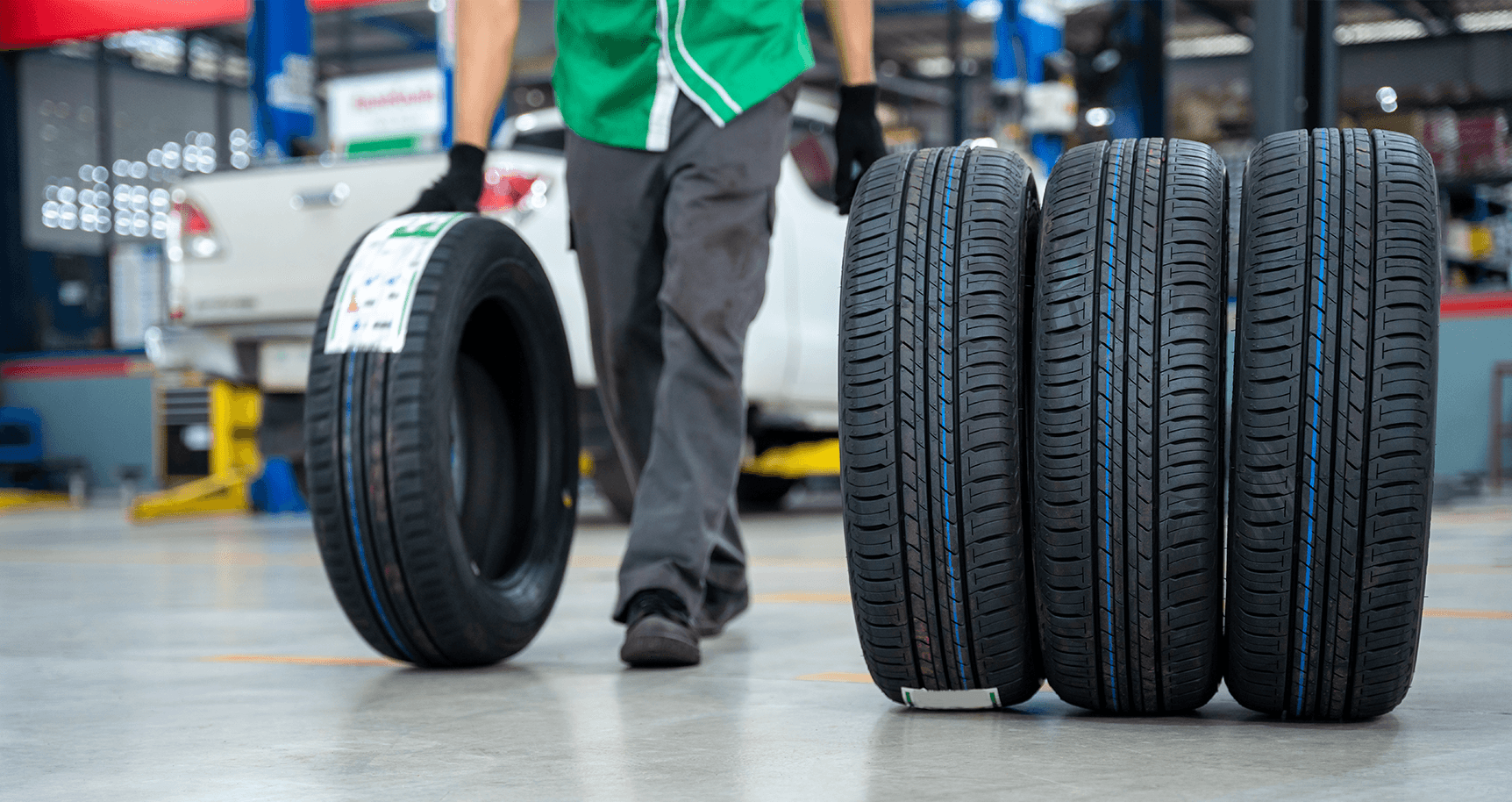 Why it's important to promptly replace tires
If you don't have money on hand to pay for new tires, you may be tempted to drive on them a little longer. But replacing tires isn't like replacing worn-out sneakers. Your tires are critical to the function and safety of your car.
Worn, leaky, or old tires can cause a number of problems:
The bottom line? Avoid driving your vehicle if it needs new tires. Learn more about when to replace your tires.
Purchasing winter tires
Winter tires are designed to perform best in cold, icy, and snowy conditions. Research from the AAA Foundation for Traffic Safety found that about 46% of crashes involving bad weather take place in the winter. Winter tires offer significant safety benefits, so they may be worth the investment if you live in areas that experience moderate to heavy snow and ice, according to AAA.  
Winter tires are made with a specialized type of rubber that remains flexible in frigid temperatures, and have deeper treads to grip the road in snow and ice. Winter tires improve traction, braking, and handling, shortening stopping distances up to 30%.
While all-season tires are fine for mild winters, they're often not enough for more extreme cold weather conditions. Learn more about why winter tires are an important safety option.
Do you really need to replace all four tires at once?
Ideally, yes. Replacing just one tire can throw off the alignment of your car and make it more difficult to handle. It also sets you up for an ongoing cycle of replacing one tire at a time, which means a lot more time spent shopping for tires and bringing your car in for a tire change.
If you can't afford to replace all four tires at once, they should be the same size as the tires already on your vehicle and should be installed on your rear axle. installing two new tires on the back. This will help maintain stability and traction, especially on wet roads, while you save to replace the other two tires.
Whatever you do, don't replace just a single tire. That can cause one wheel to spin at a slower rate than the others, which may lead to bigger problems.
Why you might want to replace your rims, too
There are several reasons why replacing your rims with your new tires can be a good idea. Many retailers offer discounts for wheel and tire bundles, which can mean big savings. And the right rims could prolong the life of your tires.
Rims that are in good condition provide leverage and reduce friction for a smoother ride. They also protect against tire damage from curbs, potholes, and other objects in the road. By replacing your rims along with your tires, you'll protect your investment and ensure that your new tires last as long as possible.
Rims can last 4 to 5 years on average, even if they don't seem to be damaged. Many factors, including the type of roads you drive on and the weather conditions in your area, can contribute to unseen rim damage.
Costs to replace tires
Here's where the rubber hits the road. The costs involved in replacing tires vary depending on the tire retailer you choose, available discounts or promotions, and the quality of tires and rims you select.
This is a general idea of what you can expect to pay:
Keep in mind that many tire stores offer generous discounts when multiple tires and rims are purchased at the same time.
One potential way to save is to find deals online, have tires shipped to you, and install them locally. Buying online may help you save on sales tax, too. If you can install tires and rims yourself, by all means, do so. But if you've never done it before, think carefully about taking the safety risk.
How payment plans make large purchases predictable
If you don't have thousands of dollars on hand to swap out your tires, what can you do?
Rather than putting the costs on a credit card, consider other ways to finance your tires. Paying over time will allow you to make low, monthly payments until the tires are paid off. Unlike credit card payments, which can fluctuate based on interest rates and current balances, tire financing provides a predictable, consistent payment schedule until the tires are paid off.
Paying for tires with no credit
If you have no credit or bad credit, financing may still be available to you. Snap Finance offers budget-friendly lease-to-own financing to help you get the tires and rims you need.¹ All credit types are welcome.²
It's easy to apply using text or QR code, in-store or online. Decisions are received in seconds, with approval amounts up to $5,000.³
Once you're approved, shop for tires at any Snap Partner. You can make your purchase with confidence, knowing you have a predictable payment plan that lets you pay over time based on your paydays.
Learn how you can shop now and pay later for the tires and rims you need.  
 --------------
The advertised service is a lease-to-own agreement provided by Snap RTO LLC. Lease-to-own financing is not available to residents of Minnesota, New Jersey and Wisconsin.
¹Some restrictions on leasable auto parts and services may apply. See merchants for restrictions. Snap lease is not available at auto related merchant locations in some states.
²While no credit history is required, Snap obtains information from consumer reporting agencies in connection with the lease-to-own application. Not all applicants are approved.
³As of February 2023, the average approval amount a customer receives is $2,900.
The content of this article is for informational purposes only and should not be construed as personalized legal, financial, or other advice. This article represents paid promotional material provided by or on behalf of Snap Finance, LLC, or its affiliates.