What Every Driver Should Know About Tire Safety and Replacement: How to maintain your tires and when to replace them
There's more to the vehicle safety than airbags and seatbelts. Tires are also critical in protecting you and your family as they're the only thing between you and the road. Financing new tires can help you get safer tires, no matter your budget.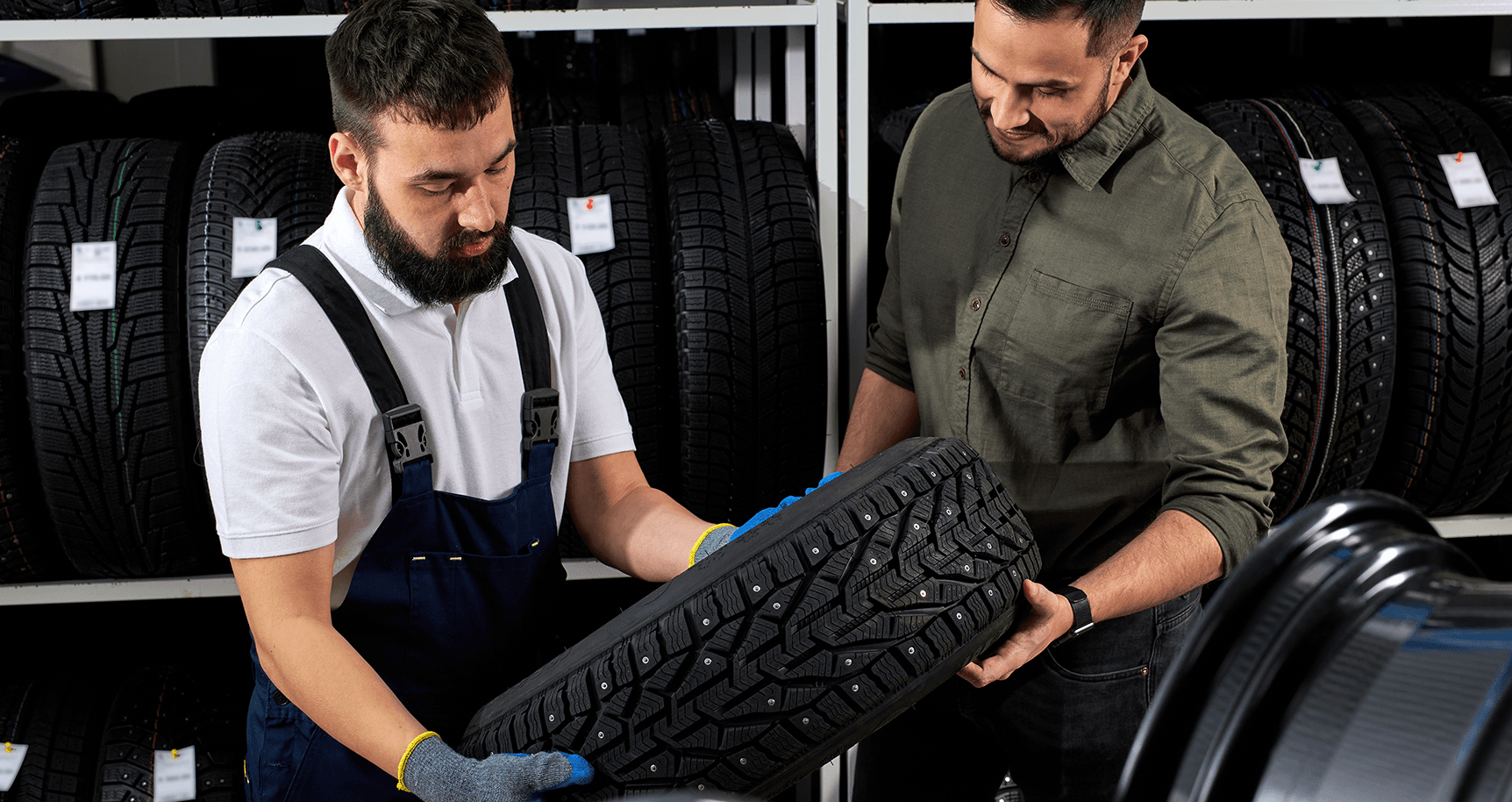 Basic tire safety
Tire safety is all about purchasing the right tires for the make and model of your vehicle. What type of tire you buy will vary by where you live and the typical weather you drive in, according to the National Highway Traffic Safety Administration. Passenger cars typically use all-season or summer tires, while four-wheel drive vehicles may require all-terrain tires. Consult your car owner's manual or speak to a tire professional to find the right option for your car.
If you live in a location with dramatic seasonal weather shifts, ensure you're using the right tires for the current season. For example, all-season tires are designed to provide good traction in a variety of weather conditions, but they may not perform as well in extreme cold or heat. And summer tires provide optimal performance in warm weather but don't offer the same level of traction in colder temperatures.
Consider road – or off-road – conditions, too. If you regularly drive on unpaved roads, you'll want tires that can handle rough terrain.
And never overload your vehicle. Tires can only carry so much weight, and exceeding their limit puts you at risk of a blowout. Be sure to check your car owner's manual for the maximum weight capacity for your tires.
Check tires regularly
Experts recommend checking tire pressure at least once a month – more often if you drive long distances.
Here's a quick tire checklist from Consumer Reports:
Check the air pressure in all four tires. Use a tire pressure gauge to get an accurate reading. Don't rely on the pressure sensor in your car, as it may not be entirely accurate. Under-inflated tires can lead to a blowout, while over-inflated tires can cause premature wear.
Check for tread wear. Use the penny test: Insert a penny into the tread with Lincoln's head pointing down. If you can see all of Lincoln's head, it's time to replace your tires because the tread depth is less than 2/32 of an inch.
Check tire sidewalls. Look for cracks, bulges, or bald spots, which may signal it's time for new tires.
Check the tire's age. Look for "DOT" followed by several digits on the lower sidewall. The last two numbers will tell you the year the tire was manufactured. Consumer Reports recommends that any tires more than 10 years old should be replaced, regardless of wear.  
Don't stop with checking the tires on your vehicle. Inspect your spare tire to ensure it's in good condition if you ever need it.
When to replace tires
Your tires aren't like your comfy old jeans that you wear out completely before replacing. It's important to take a proactive approach and replace your tires well before they start falling apart. But tires are expensive, so you want to make sure you get as much life out of them as you can.
Here are the primary reasons to replace your tires, according to Kelley Blue Book:
Damage. If your tires are damaged, it's time to replace them. This includes any cracks, bulges, or bald spots. Damage isn't something to try to "fix" with tire sealant or a patch. If you're at that point, it's time for new tires for your safety and the safety of your vehicle.
Tread wear. If the tread on your tires is worn down, they need to be replaced. Use the penny test described above to check tread depth, and if your tires fail the test, it's time to head to the tire store. Don't delay as driving on bald tires is dangerous.
Age. Even if your tires don't show any visible signs of damage and still have good tread depth, they may need to be replaced due to age. Tires have a lifespan of six to 10 years, after which they can start to deteriorate, regardless of whether they're being used. If you're not sure how old your tires are, check for the Department of Transportation (DOT) code on the inside sidewall near the rim.
Mileage. Your tires may still be at the end of their useful life, regardless of whether the tread looks good and/or they're less than six years old. Most passenger vehicle tires have a lifespan of about 50,000 miles, but that varies by type of vehicle, tire, and driving habits.
Should you replace all your tires if only one is damaged?
Ideally, it's best to replace all four tires at the same time, no matter how many are damaged or worn. That's because tires that are the same age wear evenly,  which usually improves performance and provides optimal traction, handling, and fuel efficiency.
If you can't afford to change all four tires at once, you can replace them in pairs. For example, if the front tires are starting to show wear, replace both front tires. Or, if the back tires are damaged, replace both back tires.
Paying for Your Tires
Tires are expensive, and when they need to be replaced, they usually need to be replaced quickly. There's no time to save, which makes paying all at once even more difficult. Of course, driving on dangerous tires isn't a solution, but there are options to help you replace your tires without breaking your budget.
Lease-to-own financing offers a way to get the tires you need now. With this option, a lease-to-own finance company purchases your tires up front. You take the tires home and make lease payments over time until you've made all necessary payments to obtain ownership. Then you own the tires.
If less-than-perfect credit is a roadblock to getting the tires you need, Snap Finance can help. Snap offers lease-to-own financing for many items, including tires and rims.¹ With Snap, you can shop now and pay later with multiple ownership options to get you back on the road.
Apply for lease-to-own financing now.
 --------
The advertised service is a lease-to-own agreement provided by Snap RTO LLC. Lease-to-own financing is not available to residents of Minnesota, New Jersey and Wisconsin.

¹Some restrictions on leasable auto parts and services may apply. See merchants for restrictions. Snap lease is not available at auto related merchant locations in some states. 
The content of this article is for informational purposes only and should not be construed as personalized legal, financial, or other advice. This article represents paid promotional material provided by or on behalf of Snap Finance, LLC, or its affiliates.